During last 20 years, when I was getting involved as a fishing guide on many rivers and lakes in Czechia and abroad, I was very lucky to meet a lot of interesting people from all over the world and investigate a whole bunch of often astonishingly successful fishing techniques. One of them is without any doubts TENKARA – a traditional Japanese "ultra-light flyfishing".
However tenkara was introduced to me not by Japanese anglers, but by clients from bulgarian capital city Sofia, which had arrived for trout fishing on one of the small rivers lost somewhere in North Bohemia among Krkonose mountains. I taught them as a specialist in «czech nymphing» about a half-day how to catch from under the feet stubborn graylings and brown trouts, but after lunch Mitko, as one of them was named, took out of the backpack a pole, which looked rather like a child toy, fastened to the tip a brightly colored monofilament leader with one single fly on the thin tippet. And afterwards he began to pull out of the water nice little trouts one by one! Well, I've tried to do that in the same way…. and, as my friends later emphasized, tenkara can easily "hook" You as a drug. Real simplicity and elegance when Your hand moves as in japanese caligraphy! You can land Your first fish just in after a few minutes of training!
What is this wonderful fishing style TENKARA about?
Let's start from a history
Once in medieval Japan during the Edo period, lasting from year 1608 to year 1863, the Tokugawa shogun established peace in the country and the clans stopped fighting each other. Then samurais, who were faithful vassals of the emperor, got an order to practicise fishing on fast mountain streams for training their agility and quick reaction, in addition to fencing with the japanese sword – catana. First tenkara fishing was an occupation for the privileged estates of the population, so the tackle was very expensive. Even flies were sometimes braided with a golden thread and, together with hand-made bamboo rods and a line of woven horse hair or silk, represented whole works of art. But one by one fishing was allowed for everyone and tenkara, along with the sea fishing, became also a source of income for the poor.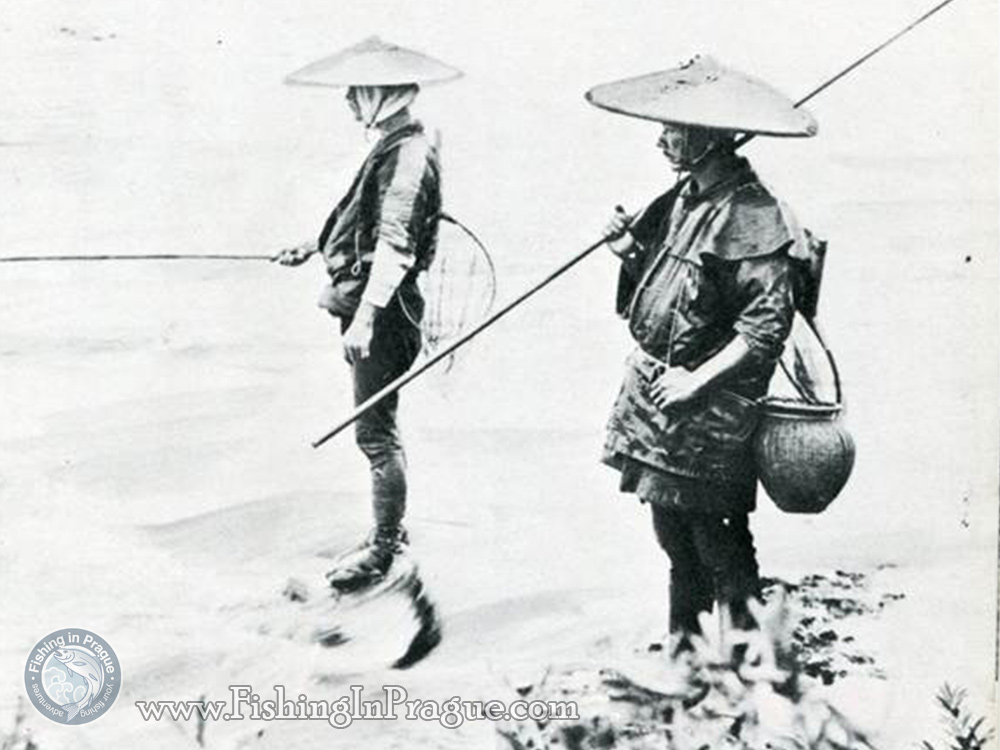 Being a mountainous country, Japan boasts a multitude of creeks and streams, inhabited by three species, which became the main targets for tenkara anglers. First, it's IWANA (Salvelinus leucomaenis), which means "fish of stones", the whitespotted char living in very cold mountain streams. Then it's AMAGO (Oncorhynchus masou macrostomus) or "rain fish", which really bites better in rainy weather, when the water becomes muddy. And, the last one is YAMAME (Oncorhynchus masou), not without reason carrying the name "woman of the mountains" for its beauty. All these fish already in the 18th century became a welcome dish on the table of nobles, and now they are served in the most exquisite restaurants.
The very name "tenkara" has appeared a little bit later and means "from heaven", which is not surprising if you look at the fisherman's movements from the side.
By the way, very similar to tenkara is also the traditional traditional japanese "ayu fishing", called after the fish with the same name. For this type of fishing anglers use very strong and flexible poles up to 30 meters long both with an artificial fly and with the imitation of the ayu fish itself, which works well especially during spawning, when this fish protects its nest.
The most common fish species that can be caught with tenkara in Europe except trout, char and grayling are although chub, perch, roach, bleak and even a crucian carp!
What kind a tackle and equipment is used for tenkara fishing?
The tenkara tackle is very simple and inexpensive and really distinguish in this way from fly fishing, which is not in vain considered as an elite fishing method. Just compare by Yourself: the average quality fly fishing set including rod, reel, fly line, two or three leaders, some tippets, fly box, vest and waders will cost at least 600 – 700 euros, while for tenkara you only need a rod with a price of up to 150 euros, tapered leader, tippet material and flies. Since fishing usually take a place in shallow creeks and small rivers, there is no necessity to bring waders, simple wading boots till waist will be probably enough. Furthemore all accessories fit into one pocket of a jacket!
| | |
| --- | --- |
| | |
The modern tenkara poles are in 90% of cases telescopic and have their own classification, which depends usually on their action. Their length varies from 11 to 14 feet, and the notations 8:2, 7:3, 6:4 and 5:5 show the ratio of hard and soft parts. Traditionally for tenkara existed a tapered leader made from horsehair, which was in modern times replaced either by a tapered line, or just by a heavy monofilament line in bright color with the length of 10-11 feet. It is possible to use as a leader just a common fishing line with a diameter of 0,4 or 0,5 mm, however usually those lines are not enough soft. The tippet is connected to the leader by simple knot.
The flies for tenkara is also usually very simple and easy–to–tie. Once in Japan there was only one fly for tenkara – KEBARI, which was made from pheasant's or rooster's feathers, but now the number of flies goes beyond one little fly box – same as in fly fishing. However if You'd like to be successfull on fishing the dozen of traditional kebari together with a few bead head nymphs and dry flies would be enough. Along with kebari and nymphs the one of my favorite flies is «killer bug» invented by Frank Sawyer, which can be really a «killer» of graylings. The secret in this case is a beige colored wool with a pinch of pink color, which costs on the Internet sometimes more than $ 100 for a tangle, because it's almost impossible to find this proper color in common stores with wool.
——— The end of the First part! ———
In the next part 2/2 You will find the following:
Casting technique and work with fly
The main difference between tenkara and fly fishing