Fly fishing, fly casting and fly tying – all in one
1. Fish species You can expect to catch
2. Fly fishing techniques You will use (study)
3. What you can expect & how much does it cost
4. Example of a fly fishing trip schedule
5. Necessary equipment
Dear fly fishermen,
during my long-time practice on czech waters as well as abroad I studied a lot of interesting fishing methods, but after all fly fishing remained my favorite fishing style due to its unrepeatable elegance and purity. I guess almost no one from anglers I had the privilege to fish together will change their fly fishing road to another fishing style, because after they got on dry fly in the clear water of highland stream the first grayling or trout, their live had changed….. And, if You'd like to learn fly fishing in correct way, the fishing guide in Prague would be Your right choice! :–)
What is the main point of success in fly fishing?
There are many knowledges: congenial fishing equipment, careful approaching to fish, choosing a the most suitable fly, correct casting technique and many, many more… Now you have an opportunity to study it all.
Fish species You can expect to catch.
Fly fishing techniques You will use (study).
The most famous fly fishing technique in Czech is certainly the czech nymph or also short nymph, which became a "killer" and is prohibited in some fly fishing competitions. This fly fishing technique is very simple on the one hand, but need a professional supervision for being successful. Another techniques You will probably need to use are long nymhing, wet fly, streamer and, of course, the dry fly.
What you can expect & how much does it cost?.
fishing guide for one day – 150 euro
one day fishing license – 30 euro
transfer to the fishing spot – depends on a distance, approx.40-50 euro
Here is an example of a fly fishing trip schedule.
6am – meeting at the hotel, transfer to the fishing place (approx.one hour)
7am – registration a fishing permit
from 7:30 to 11:30 – fishing on the on first "hot spot"
12:00 – lunch
from 13:00 to 16:30 – fishing on the second "hot spot"
17:00 – transfer back to Prague
The whole trip can cost a 220 euro for one person (incl. transfer, tackle hire, fishing permit and guide service). For two person such a trip would cost 350 euro with the same conditions. You can order a hot lunch, it would cost just 15 euro per person with very good czech beer.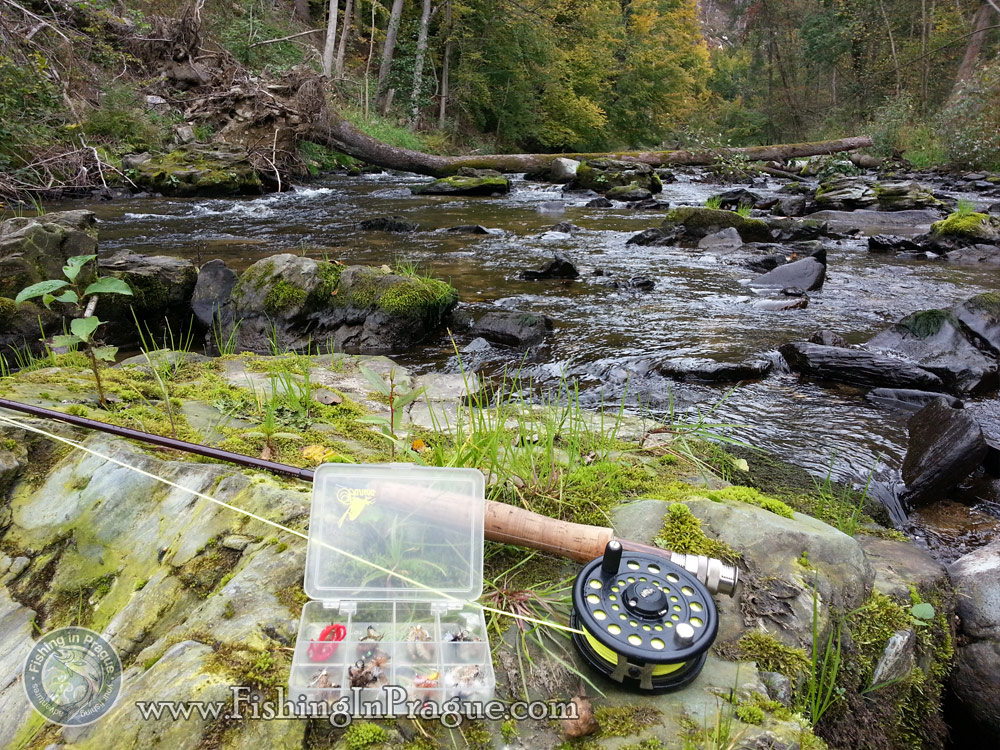 Necessary equipment.
Without doubts You can hire any fly fishing equipment from us. Poles, reels, waders, flies…. Everything we have at Your disposal. However if You prefer to bring You own equipment just be careful and don't forget to pack following staff. Below is a list of recommended tackle:
Tackle: rod #4-5, reel, fly line 4-5 AFTM, tapered leaders, fluorocarbon leader 0,15 – 0,20, scissors, landing net etc.
Clothes and accessories: waders, boots, west, two pair of long socks, polarized glasses, hat
Flies: goldheads, caddis larvae, wet flies, streamers, dry flies as Klinkhammer etc.
If you want to spend two or more days near the river in a comfortable accommodation place, I highly recommend this variant, because fishing is not only an adrenalin, but first of all a good relaxation…
REPORTS from some of recent fly fishing trips: