Fishing in Japan and another adventures…
Almost everyone who have visited Japan once has fallen in love with this country. The Europe is beautiful, especially Prague, however Japan has something particular, magnetizing its guests by cherry blossoms, ocean sunrise, majesty history, overcrowded shiny streets and polite manners. I am dreaming about this country since I visited Japan the last spring during 花見 hanami – flower viewing, when thousands of people regardless of their social status gathering together in the gardens and parks to admire blossoming flowers and enjoy great time of the early spring.
Every time I visit Japan or another country I bring some fishing gear for getting more exciting memories. Finally I write usually some reports in Czech, Russian and Slovakian magazines about my fishing adventures. The last time I visited Japan was not exception and I would be pleased to share also with you – my estimable blog readers – my experiences and new observations.
Fishing for Suzuki
Everyone knows the famous and reliable car company – Suzuki; at the same time this is a japanese name of Sea bass. Japanese 釣り人 tsuribito – fishermen are real masters at suzuki fishing and when I've visited a fishing shop in the center of Tokyo I've got a lot of valuable advices along with specific lures. Fishing itself was proceed on Naoshima island not so far from Kyoto, where I was honored to meet my first sea bass.
This predator occurs in a fairly large number almost everywhere along the Japan see coast, and often float into big rivers preying for small fish during ebb and flow, even a few miles upstream. The appearance of this fish is very similar to the pikeperch or walleye, however behavior reminds sometimes asp or bass, because the sea bass is preying for victims usually near the surface in opposite to the walleye. The unforgettable fishing time can take place also at night. Suzuki is a great fighter, so be careful when drawing it out of the water. My first Suzuki was not so big, approx. 60 cm (25 inches) long, however I've got it on a light gear and it was really impressive for me. It was a beautiful silver-colored one with long spines on the back and sharp teeth. Nice creature!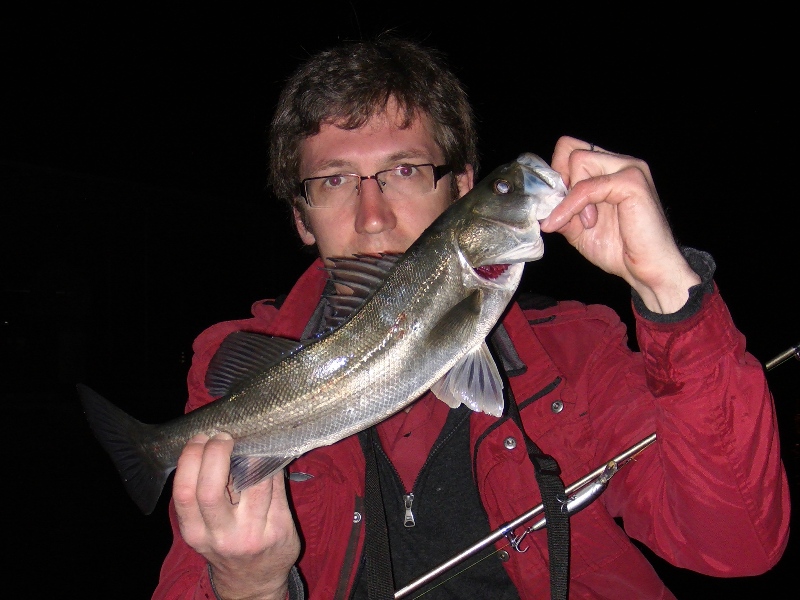 So, how about fishing equipment for this Suzuki?
There is not a problem to find a high-quality tackle especially for this fish, because of its popularity. As far as myself I choose the light 2,7 m (9 ft) long fast action rod with the test 10 – 30 gr (0.25 – 0.75 lb), fixed spool reel with a 0,15 cord or 0,25 fishing line and long-shape silver or orange-red (if the water is not so clear) lures approx.9 – 12 cm long, for example Rapala X-rap or Stuka Navarone. Sometimes, especially during the night, the great results brought me a fluorescent lure. In any case choose your equipment with consideration of long cast. As far as fishing place the very good one for night Suzuki fishing is a harbor after shipping transport will quiet down. Btw, my first sea bass I've got rightly in the small harbor.
Suzuki has particular names in Japan, depending on its length. So, perhaps you will be surprised when somebody will call Suzuki with a different name, so there is a small table with japanese sea bass "nicknames":
<30 cm - "Hanego"
30 – 50 cm -"Seigo"
50 – 70 cm – "Hukko"
70 – 90 cm – "Suzuki"
>90 cm – "Nyudo"
Small manual of japanese fishing terms
I hope the following dictionary will be useful for everyone who's going to visit this beautiful country with fishing road. Please, feel free to ask me if something will be unclear or you will need more fishing terms.
釣り道具 tsuridogu– fishing shop
上州屋 joshuya -famous brand fishing shop http://www.johshuya.co.jp/
釣り場 tsuriba – fishing place
餌 esa – lure
釣り竿 tsurizao – fishing rod
スズキ suzuki – japanese sea bass
魚市場 sakanaichiba – fish market
Next time I am going to continue with my "japan" story with イカと河豚釣り - fishing for squid and fugu. If you have any questions about fishing in Japan, don't hesitate to drop me a line 🙂