Carp fishing with professional guide service.
1. What is carp fishing about?
2. Fly fishing techniques You will use (study)
3. What you can expect & how much does it cost
4. Example of a fly fishing trip schedule
5. Necessary equipment
For those, who love wanna try carp fishing.
Czech republic is a very famous place for every one, who want to catch really big carp and learn about most successful carp fishing methods. On the one hand our carp waters are not so famous as great carp fishing lakes Cassien in France or Rio-Ebro in Spain, but one the other hand the best way to study carp fishing methods is fishing in czech waters, because carp fishing belongs to czech traditions for centuries. And of course even here You can get on hook real trophy carp as lots of my clients just did!
I am not a hight protagonist of carp fishing with boilies, though this typical method can bring real monsters to your landing net, but also require long-time waiting and tons of necessary gear. My favorite method, which I highly recommend to my clients is bobber fishing together with surface fishing and feeder. During last season my clients have caught on light gear more than a dozen of carps with approx. weight 13 – 15 kilos, and hundreds of average-size fish. However if You'd like to stay with traditional carp fishing technique, let's do it! But…..stay near the water longer, at lest two days 😉
Fish species You can expect to catch.
What you can expect & how much does it cost?.
fishing guide for one day – 150 euro
one day fishing license – 30 euro
transfer to the fishing spot – depends on a distance, approx.40-50 euro
Here is an example of a carp fishing trip schedule.
6am – meeting at the hotel, transfer to the fishing place (approx.one hour)
7am – registration a fishing permit
7:30 to 16:30 – fishing on the best spot of the lake
17:00 – transfer back to Prague
The whole trip can cost a 220 euro for one person (incl. transfer, tackle hire, fishing permit and guide service). For two person such a trip would cost 350 euro with the same conditions. You can order a hot lunch, it would cost just 15 euro per person with very good czech beer.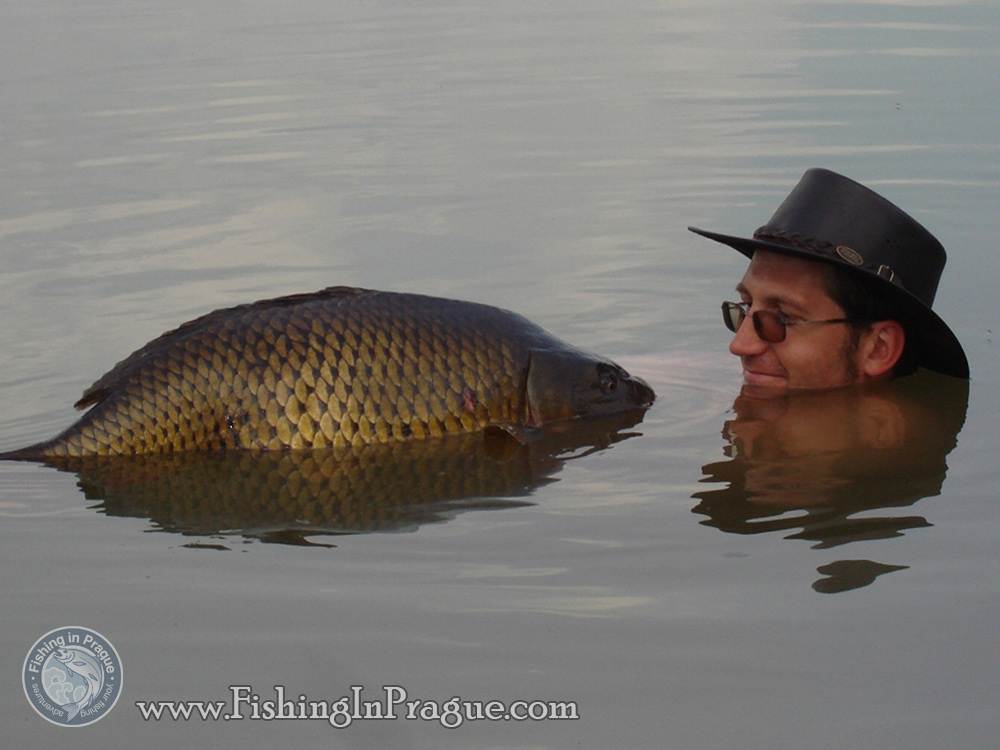 Necessary equipment.
Without doubts You can hire any carp fishing equipment from us (just included in price). However if You prefer to bring You own equipment just be careful and don't forget to pack following tackle, mentioned below:
Tackle: two 12 or 13 feet rods with weight 2,75 or 3 pounds, large reel with bait runner and 300 m (1000 feet) of monofilament line 0,35, rod-pod etc… Please contact us for more information, because the list of carp fishing equipment can be really long.
Clothes and accessories: waterproof jacket, rough outdoor shoes with warm socks and tight trousers. Sun glasses would be also great during summer as well as good cap.
Do not hesitate to contact me anytime by email or phone. My clients are not only advanced fishermen with many years of practical experience, but also real beginners. But all of them have something in common…. They all catch big carps!
REPORTS from some of recent carp fishing trips: