Coastal fishing in Greece
1. Introduction: fishing holidays
2. Fishing shops and open-sea trips
3. Fish species and their preferred food
4. Traditional fishing method
5. Bottom fishing and fishing with bobber
6. Main predators and lure fishing
7. What should you pay special attention to?
Introduction: fishing holidays.
Greece is a great destination for a summer holidays with amazing clear sea, great food and a unique history. And fishing in Greece is also very exciting! I believe that especially during the warm season come here the vast majority of tourists, so we will focus mainly on the summer months. Btw, no fishing license is required for coastal fishing in the Aegean and Mediterranean sea.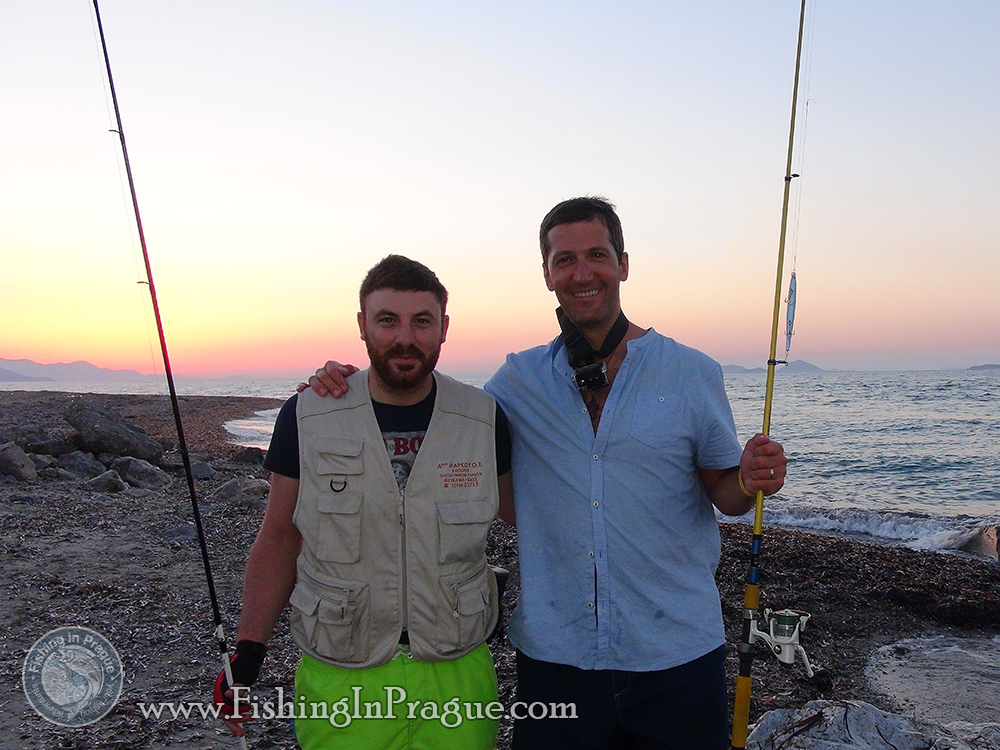 Fishing shops and open-sea trips.
On the Kos island (in this article I am going to talk mainly about Kos), which is incidentally the third largest island in Greece, are several fishing stores, mainly in the city of Kos, among which I can recommend the following: Diana sport, Eleftheriou Venizelou 23, Kos 85300, Tel: +30 22420 23722
In addition to coastal fishing there is an opportunity to take a fishing trip on the boat. In general, these trips are offered in the port of Kos, but You can find great propositions directly at a hotel. Those fishing trips with another amateur anglers are for very reasonable price – just about 40 euros per person, although take whole day, from 8 a.m. to 5 p.m. In this case the traditional Greek method is being used (we will talk about it below), however you can rent also a boat with Your own captain to catch a tuna with trolling. This kind of trip will cost a little bit more, from 200 euro per day.
Fish species and their preferred food.
Although the Greek coast is washed by two seas – Mediterranean and Aegean, the fish species diversity is almost identical in both of them. The main nonpredatory fish are mullet and sea breams, which is represented here in several varieties. Those fish, however, can be considered nonpredatory only relatively, because as well as freshwater chub they hunt for fry and shrimps at ever opportunity.
Among further widespread fish species I can mention wrasse, goatfish and some others, all of which can be caught by sandworm or a slice of fish. The sandworm or king ragworm is quite soft and due to this softness fish pull it of quickly from the hook. Besides, this worm costs quite a lot at fishing shop, so a slice of fish seems to be better choice.
Fish species in Aegean sea
| | | |
| --- | --- | --- |
| Mullet(Mugil cephalus)Κέφαλος | Annular seabream(Diplodus annularis)Σπάρος | Comber(Serranus cabrilla)Χάνος |
| Striped seabream(Lithognathus mormyrus)Μουρμούρα | Salema(Sarpa salpa)Σάλπα | Saddled seabream(Oblada melanura)Μελανούρι |
| Sharpsnout seabream(Diplodus puntazzo)Μυτάκι | Painted comber(Serranus scriba)Πέρκα | Red mullet(Mullus barbatus)Κουτσομούρα |
| Garfish(Belone belone)Ζαργάνα | Wrasse(Labridae)Ταωλαπίνα | Axillary seabream(Pagellus acarne)Μουσμούλι |
| Bluefish(Pomatomus saltatrix)Γοφάρι | Barracuda(Sphyraena sphyraena)Λούτσος | Oceanic puffer(Lagocephalus lagocephalus)Λαγοκέφαλος |
DANGEROUS (!) fish species in Aegean sea
| | | |
| --- | --- | --- |
| Greater weever(Trachinus draco)Δράκαινα | Red scorpionfish(Scorpaena scrofa)Κόκκινη σκορπίνα | Thornback ray(Raja clavata)Σαλάχι, ράγια |
Traditional fishing method.
Traditional for Greece as for many another coastal states is hand fishing (strong 1,0 mm line, wound on plastic reel, lead approx.200 gr. and two or three hooks). Such fishing is effective mostly from a boat or in a pier, as it is difficult to cast far away from the bank. As a bait anglers use a slice of fish.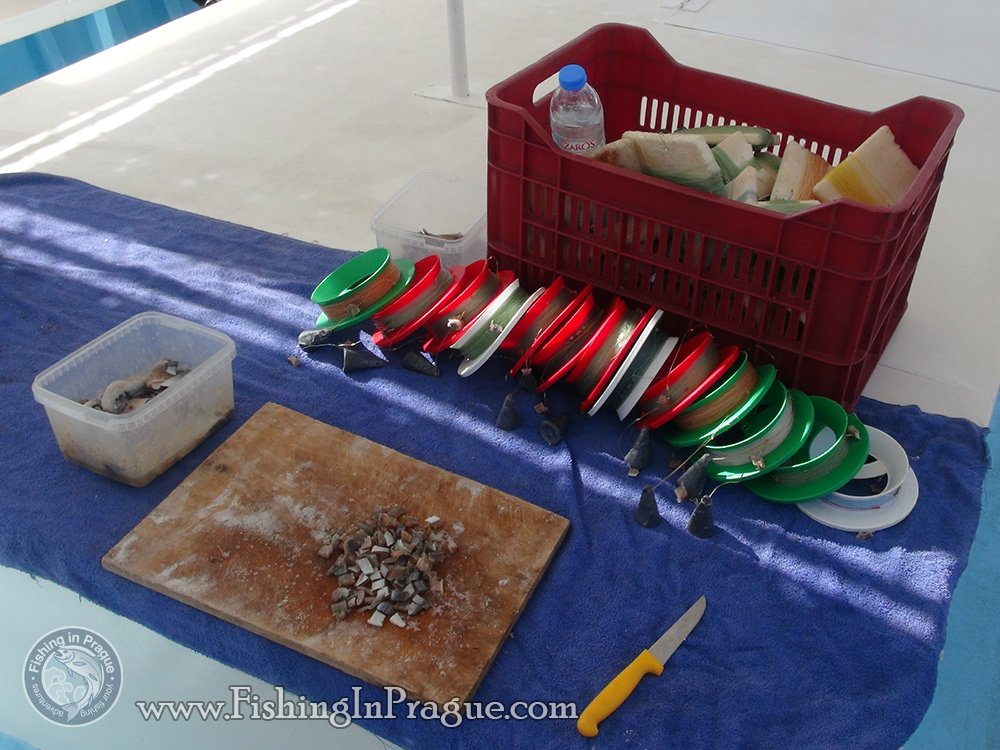 Bottom fishing and fishing with bobber.
Very funny can be fishing with bobber, especially with the sandworm, or white bread. The last bait is very effective in ports where fish, mainly mullets, pick food leavings thrown from ships into the water. Local fishermen use often a bobber filled with water and a couple of hooks on a meter long fluorocarbon tippet; this montage can be cast quite far away look for fish. But personally I would recommend a long 7-8 meters pole with a little bobber, because in this way You can get really lots of different fish in the harbour.
The bottom fishing with light stick is very interesting in the late evening or night, when the water surface become quite. At that time many different fish species coming closer to the sea shore, as stingrays or big mullets. As a bait local fishermen use again sliced fish or ragworms.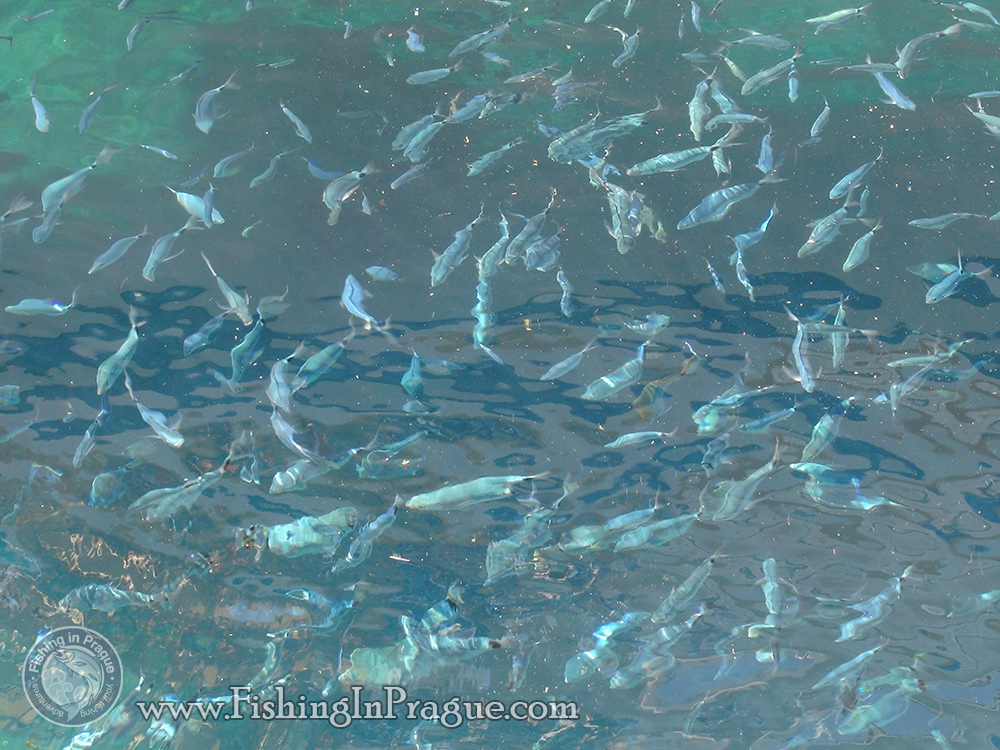 Main predators and lure fishing.
As I have mentioned earlier, almost all fish species in the sea can be considered as predators and even the sea bream or fugu can be successfully caught on silicone lure. However, there are also some specific predators as bluefish, barracuda and leerfish. In the summer the most successful is fishing for the bluefish at dawn and dusk, especially where different sea currents are merged, attracting big shoals of small fish as sardine. Among many lures I would advise Rapala MaxRap 23 or Mommotti Seaspin 180SS, which should be driven very fast with active twitching.
What should you pay special attention to?
At the end I would like to pay Your attention to several detailes, which will help You enjoy holidays and avoid unnecessary problems:
do not forget to bring sun oil 50+ for protection against strong sunlight and use it regularly, especially between 10 and 16 hours. However despite of it Your skin will be burned, use D-Panthenol and You will sleep well in the night.
the meat of some fish, such as bluefish, goes bad very quickly, so try to cook it immediately or freeze. Avoid consumption of fugu meat in any case, as its poison is stronger than cyanide!
don't be afraid to fish in the waves, on the contrary, when the water is a little bit muddy, even big fish lose their caution. However, once waves height exceeds a meter be really careful during fishing.
there are also a few dangerous fish species in Mediterranean and Aegean seas. It's the sea urchin, greater weever, scorpionfish and thornback ray. Especially on deserted beaches it's better to enter the water with fins or rubber slippers. Why risk your health for nothing?
If you have any questions about fishing in Greece, mainly in the Aegean sea, then feel free to contact me. I would be happy to share my experience with You!